BOOK OUR EVENT ROOM!
Let us help you plan your next corporate meeting, party, conference, reception, birthday party, wedding or special event.
Join us for live entertainment every weekend! If you would like to book your band, please contact us.

LOCAL + FRESH + TASTY
We've taken a historical building and given it a fresh new look. The warm and inviting space offers a comfortable flow between the restaurant, bar and event space. Our mission is to highlight the Northern experience in Sudbury by introducing wine on tap, 26+ craft and premium beer on tap and true Northern comfort food. We want to share this experience with YOU! Please come and join us for lunch, dinner or an evening out. We want to get to know you!
TAKE THE TOUR!
Here are a few images to help you get a feel for TAPHOUSE.
Taphouse Northern Grill + Pub
Taphouse Northern Grill + Pub
For reservations, event room bookings, pre-ordering or general inquiries, please contact us.
Address: 1500 Regent St, Sudbury, ON P3E 3Z6
Phone: 705-222-4827 (4TAP)
Business Hours:
Monday: 11am – 10pm
Tuesday: 11am – 11pm
Wednesday: 11am – 11pm
Thursday: 11am – 11pm
Friday: 11am – 1am
Saturday: 11am – 12am
Sunday: 11am – 10pm
Follow Us on Social Media
PROUD SUPPORTER OF LOCAL BUSINESS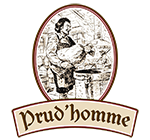 Prud'homme certified

*BEST BEER SELECTION